The Southeast Conservation Blueprint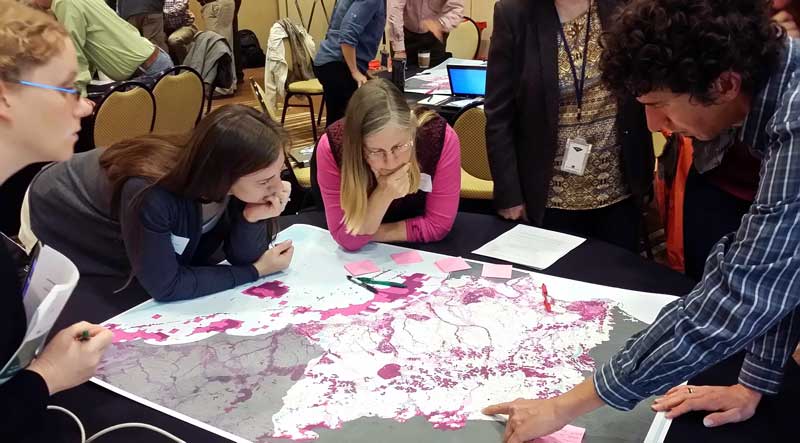 The Southeast Conservation Blueprint is more than just a map. It's a living, spatial plan that identifies important areas for conservation and restoration across the Southeast and Caribbean. More than 150 people from 70 organizations have used or are using the Blueprint in their work. In the South Atlantic subregion alone, the Blueprint has helped inform more than $21 million in conservation funding — 99% of which has supported on-the-ground conservation action.
The Blueprint stitches together smaller subregional plans into one consistent map, incorporating the best available information about the current condition of key species and habitats, as well as future threats. Because the Blueprint is a living plan, it will evolve over time, driven by improvements to the underlying science, our growing understanding of on-the-ground conditions, and input from new partners. So far, more than 1,700 people from 500 different organizations have actively participated in developing the Southeast Blueprint.
Blueprint Version 3.0
Southeast Blueprint 3.0 was first presented in October 2018 during the annual meeting of the Southeastern Association of Fish and Wildlife Agencies, and finalized in February 2019. Significant improvements over the previous versions include: full coverage of Texas, integrated threat layers covering the full Southeast, and the addition of a hubs and corridors layer covering part of the region. You can explore and download the data on the Southeast Conservation Planning Atlas (CPA), a free online mapping platform. There, you can also read more about the methods and underlying datasets used to create Version 3.0, and check out a user guide full of ideas about how to apply it to your own work.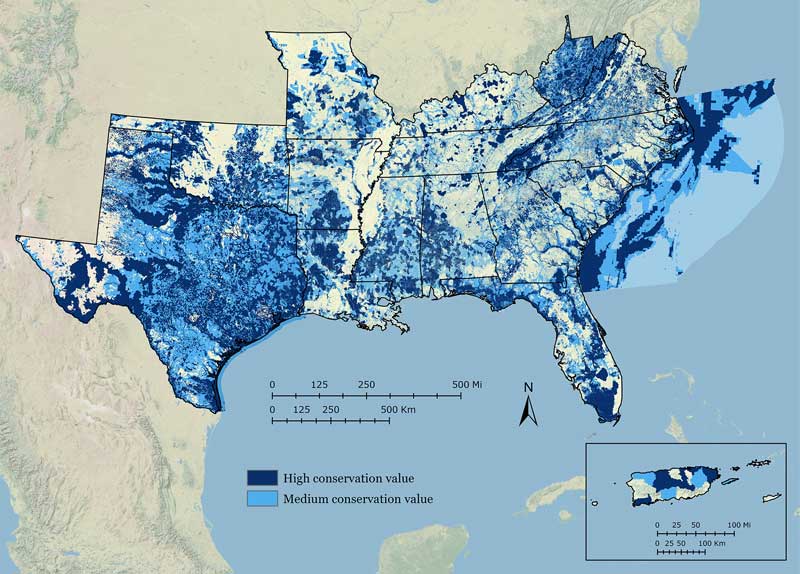 Blueprint categories
High conservation value: These areas are the most important for ecosystem health, function, and connectivity.
Medium conservation value: This category captures areas that might require more restoration, but are important for buffering high value areas and maintaining connectivity.
A few things to keep in mind as you explore the Blueprint
The Blueprint identifies lands and waters that have high conservation value. A range of conservation activities could benefit those priority areas, including management, economic incentives, and protection. The Blueprint should not be interpreted as a plan for land acquisition.
The Blueprint is not intended to be used in isolation of other datasets. Instead, it provides a regional perspective that, in combination with local data and knowledge, can help inform decisions about where to focus conservation action in the face of future change.
If you want to find your piece of the Blueprint, depending on where you're looking, you can explore the subregional Blueprint inputs and underlying datasets. These underlying layers can help you understand the important areas for birds, water quality, climate resilience, prescribed burning, reforestation, and much more. These other layers can help you tell the unique story of what makes your area of interest special. Contact Blueprint staff if you'd like some help.
As a living spatial plan, the Blueprint is always a work in progress. We maintain a list of the problems with the Blueprint that have been identified in the review process so far. Those "known issues" are captured in the Blueprint documentation on the Conservation Planning Atlas. The Blueprint will continue to be refined to incorporate updates to the input layers and feedback from Blueprint users and other partners.
Input data
Version 3.0 of the Southeast Blueprint integrates the following plans:
Contact Blueprint staff
Do you have a question about the Blueprint? Would you like help using the Blueprint to support a proposal or inform a decision? Staff across the Southeast are here to support you! You can also explore the Online Guide to using the Southeast Blueprint, which will walk you through how to use it on your own.
The Blueprint is also revised based on input from people like you. So if you have a suggestion on how to improve the Blueprint, let us know!
To get help or provide feedback, visit the contact page to reach out to the staff person working in your state.
Who's using the Blueprint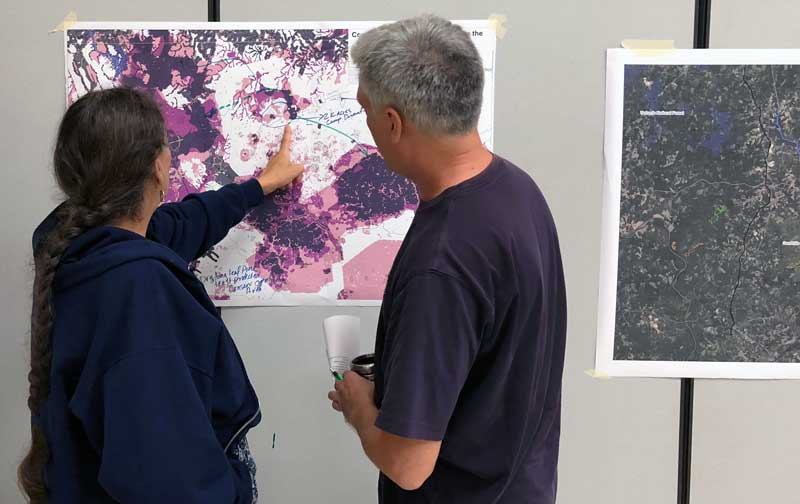 Specific examples of how the Blueprint has been used include:
A regional Council of Government used the Blueprint to help a town refine the natural habitat cores in their comprehensive plan.
A National Wildlife Refuge Manager used the Blueprint to support a proposal for funding to help recover an endangered salamander.
A private company used the Blueprint in a confidential analysis to support its business.
A state wildlife agency used the Blueprint to support a proposal for funding to protect coastal wetlands and improve public access to recreation opportunities.
Longleaf pine conservation partnerships used the Blueprint to identify restoration and management priorities.
A nonprofit organization used the Blueprint to support a critical source of conservation funding at its state legislature.
A National Forest used the Blueprint to inform its public lands planning.
These are just a few of over 50 Blueprint uses completed so far, with about 60 more still in progress! For more in-depth examples of how the Blueprint is being used, check out the SECAS in Action story map.
Individuals from more than 70 different organizations have used, or are in the process of using the Blueprint, including: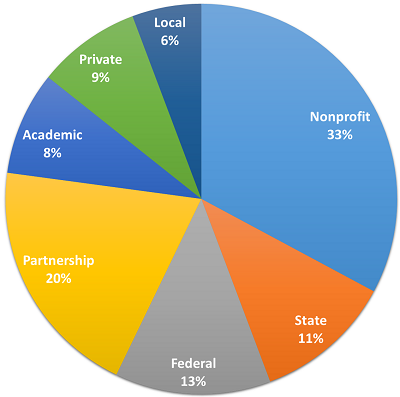 8 state agencies
Arkansas Game and Fish Commission
North Carolina Wildlife Resource Commission
South Carolina Department of Natural Resources
North Carolina Natural Heritage Program
Georgia Department of Natural Resources
North Carolina Department of Agriculture
Florida Fish and Wildlife Conservation Commission
North Carolina Forest Service
5 local land trusts
Coastal Land Trust
Pee Dee Land Trust
North American Land Trust
Upstate Forever
Woodlands Conservancy
9 federal agencies
U.S. Fish and Wildlife Service
U.S. Forest Service
U.S. Army Corps of Engineers
Environmental Protection Agency
Natural Resource Conservation Service
National Park Service
Department of Defense
National Oceanic and Atmospheric Administration
Federal Highways Administration
4 local governments and planning organizations
Catawba Council of Government
Horry County, SC
Fort Mill, SC
Union County, SC
18 nonprofits
National Wildlife Refuge Association
Pew Charitable Trusts
The Conservation Fund
Winyah Rivers Foundation
The Longleaf Alliance
North Carolina Foundation for Soil and Water Conservation
Ducks Unlimited
The Nature Conservancy
NatureServe
American Rivers
Open Space Institute
U.S. Endowment for Forestry and Communities
National Fish and Wildlife Foundation
Waccamaw Riverkeeper
Wildlands Network
National Parks Conservation Association
Ducks Unlimited
Florida Natural Areas Inventory
14 conservation partnerships
Cape Fear Arch
Southeast Aquatic Resources Partnership
Eastern NC/Southeastern VA Strategic Habitat Conservation Team
South Atlantic Fishery Management Council
Southeast Regional Partnership for Planning and Sustainability
Flint River Partnership
Cape Fear River Partnership
Upper Waccamaw Task Force
Chattahoochee Fall Line Conservation Partnership
So-Lo ACE Longleaf Partnership
Talladega-Mountain Longleaf Conservation Partnership
DeSoto-Camp Shelby Local Implementation Team
Keeping Forests as Forests
NC Sandhills Conservation Partnership
6 private businesses
Darden Consulting
Moffatt & Nichol
Dial Cordy and Associates
Holcombe, Fair & Lane
Two confidential businesses
6 universities and academic organizations
University of Florida
University of Georgia
North Carolina State University
Clemson University
Tall Timbers Research Station
Mississippi State University
The history of the Blueprint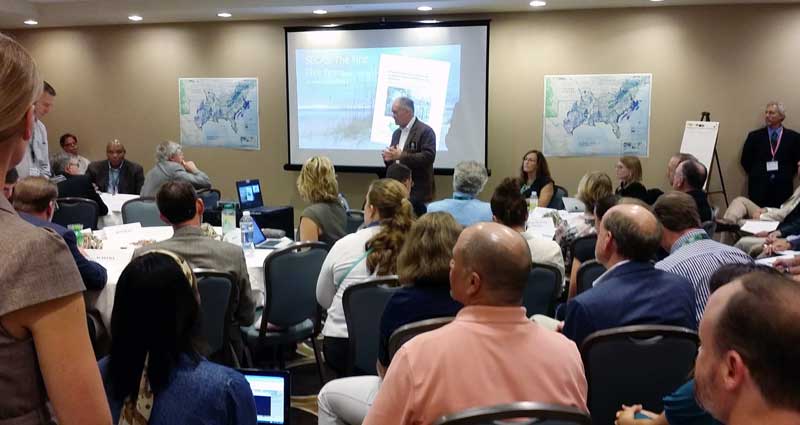 In the fall of 2013, SECAS leadership set a goal of developing a first generation Southeast Blueprint for landscape-scale conservation by the fall of 2016. Many different conservation planning efforts were already underway, but most eco-regional plans only covered parts of states, while state-specific plans stopped at the state line. The results of all this parallel planning did not yet add up to an integrated regional strategy.
Three years later, Version 1.0 of the Southeast Blueprint was released in December 2016. Development of this first Blueprint relied heavily on Landscape Conservation Cooperative (LCC) partnerships across the Southeast and Caribbean. This plan provided the first ever integration of spatial plans developed through the South Atlantic, Appalachian, Gulf Coastal Plains and Ozarks, Gulf Coast Prairie, North Atlantic, and Caribbean LCCs.
Version 2.0 of the Southeast Blueprint was released in November 2017. This plan incorporated the improved subregional Blueprints from several LCCs and established priority connections with western states through the Crucial Habitat Assessment Tool. Significant improvements over Version 1.0 included improved consistency across LCC boundaries, improved consistency in climate change response, and improved integration beyond the Southeast.
Version 3.0 of the Southeast Blueprint was first introduced at the October 2018 SEAFWA annual meeting, and officially released in February 2019. Its development occurred during a time of transition for the LCC Network where the structure and function of some LCCs was changing. Despite these changes, the capacity and commitment to continue to support Blueprint users and improve the Southeast Blueprint remains strong, evidenced by the many examples of Blueprint implementation, as well as recent progress on spatial coverage, connectivity, and threats.
The next version of the Southeast Blueprint is expected in Fall 2019. It will continue the ongoing evolution toward better integration across the various Blueprint inputs and regular updates based on the best available information.