Southeast Conservation Adaptation Strategy
SECAS brings together public and private organizations around a bold vision for the future of our region. We're connecting the lands and waters of the Southeast and Caribbean to support healthy ecosystems, thriving fish and wildlife populations, and vibrant communities. With a data-driven spatial plan and an ambitious regional goal, SECAS helps accelerate conservation action in the places where it will make the biggest impact.
---
From the blog
by John Kanter and Bruce Stein, National Wildlife Federation
To provide greater clarity and focus for regional conservation and multi-state collaborations, a new "Regional Species of Greatest Conservation Need" list is now available for use in the Southeast and in support of the Southeast Conservation Adaptation Strategy (SECAS). The National Wildlife Federation (NWF), as part of the Vital Futures project funded by the U.S. Geological Survey, initiated a process for identifying a set of regional priority species from the very large number of species collectively identified as priorities in the 15 Southeastern State Wildlife Action Plans. Over the past year, the Wildlife Diversity Committee of the Southeastern Association of Fish and Wildlife Agencies (SEAFWA) collaborated with NWF and other partners to evaluate these species and produced a list of 960 regional priority species, or "Regional Species of Greatest Conservation Need" (RSGCN). This effort was modeled after one previously carried out by the Northeast Association of Fish and Wildlife Agencies. Terwilliger Consulting Inc., who coordinated the Northeast RSGCN effort, provided the technical support and facilitation that led to the successful completion of the Southeast effort.
Read more...
by Dennis Hallema, Hydrologist at the USDA Forest Service Southern Research Station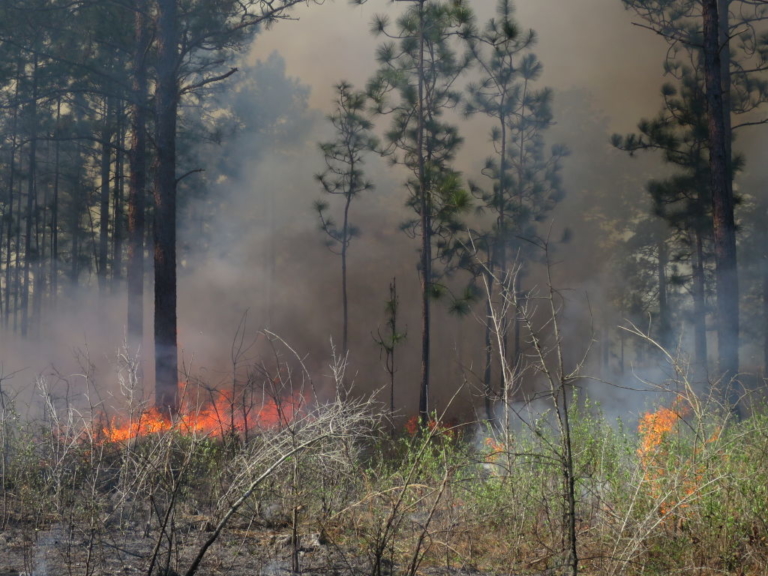 Controlled burns clean up forest fuels, and help maintain an open canopy with benefits for forest water quality and quantity. Photo by Dennis Hallema.
---
Forest landscapes are key resource areas for urban water supplies. All forests combined generate an estimated 57% of runoff worldwide, and provide water for more than 4 billion people. Water supply is one of several critical water services provided by forests—other water services are hydropower, providing cooling water for electric power plants, water for irrigation, and reducing flood risk. But forests are at the same time vulnerable ecosystems, and their ability to provide clean water is experiencing increased pressure from urbanization and the effects of human encroachment on the forest.
The increasing pressure on water supplies originating in upstream forests is partially linked to an upward trend in the number of wildfires ignited by humans. Despite their hazard to humans, occasional wildfire can be beneficial for the health and function of fire-adapted ecosystems through its effects on nutrient cycling, plant diversity and succession, and pest regulation. Like prescribed burning, this type of infrequent wildfire also reduces the risk of subsequent wildfires until a forest has accumulated sufficient fuels for another fire.
Read more...
by Rua Mordecai, Coordinator for the Southeast and South Atlantic Blueprints
This is a sneak peek at the draft report titled Recent Trends in Southeastern Ecosystems: Measuring progress toward the Southeast Conservation Adaptation Strategy (SECAS) Goal. Forested wetland birds is one of the 12 indicators covered in the report. There's more background about the goal on the goal page of the SECAS website.
Forested wetland birds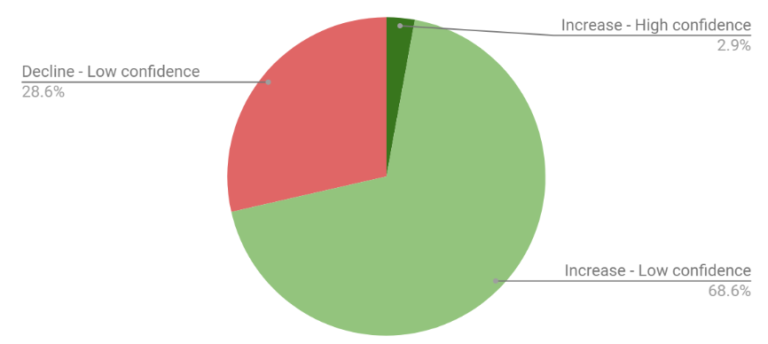 Read more...
Visit the SECAS blog for a full archive of posts.