Southeast Conservation Blueprint Version 3.0 officially released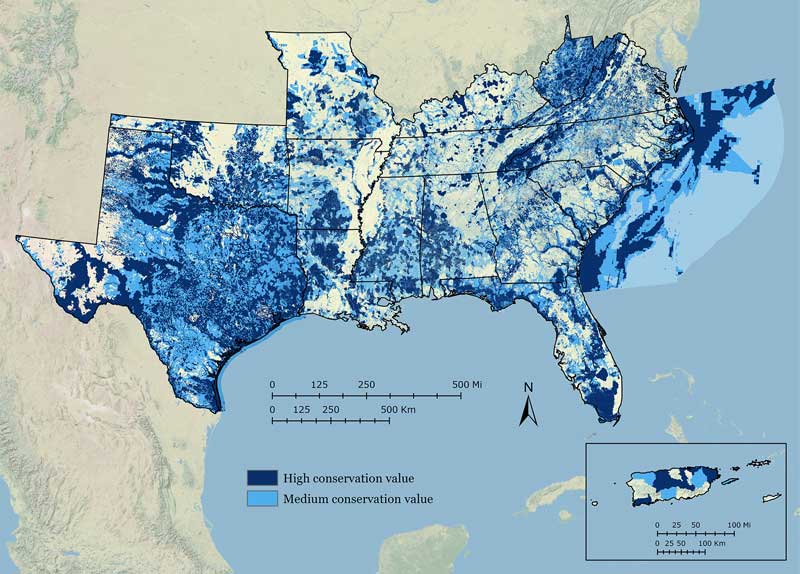 Southeast Conservation Blueprint 3.0 data are now final and ready for you to use. The major improvements in this version include:
Integration of new data from the Texas Crucial Habitat Assessment Tool (CHAT): This fills in a gap in Texas and completes full coverage of the Southeast region.
New data layer depicting Blueprint input and overlap areas: This will help you figure out which of the subregional Blueprint inputs cover your area of interest. Each of the inputs has more detailed information than what's captured in the Southeast Blueprint. This layer can help identify where to look for more detailed information.
Integrated hubs and corridors layer for the South Atlantic and Appalachian subregions: This brings together the hubs and corridors from each of these assessments into a single integrated layer. Work is underway to expand this layer to cover a broader area of the Southeast in a future update.
Threats and land use change layers: This release includes solar energy suitability, urban growth, and sea-level rise inundation
Improved documentation: We've greatly improved the detail in the documentation on how the Blueprint was put together. That includes both a pdf detailing the Blueprint development process and formal metadata used by various systems and databases that host and link to the Blueprint.
In addition, the draft version of Southeast Blueprint 3.0 released a few months ago included a small gap in coverage between the South Atlantic and Appalachian regions. We fixed this by making a slight technical adjustment to the boundary between those subregions. The spatial depiction of the Appalachian subregion in the Blueprint Input and Overlap Areas layer also reflects this update. That's the only change in the data between the draft and final version.
You can explore and download the data in the Blueprint 3.0 Data Gallery on the Southeast Conservation Planning Atlas. All the layers and documentation are organized there for you.
If you'd like help using the Blueprint to inform your conservation decision, feel free to get in touch. It's free and helping Blueprint users is an important part of what we do.
Want to use the Blueprint on your own but looking for some ideas and examples of how to use it? A user guide for the Southeast and South Atlantic Conservation Blueprints will be ready very soon. It's a compilation of different examples to inspire you and provide new ideas about how to connect to this larger strategy. We've been supporting Blueprint users for several years now, and have learned a lot about the types of approaches, wording, and maps that are most helpful in different situations. The guide showcases detailed case studies, grouped into a few themes that summarize the primary ways people have used the Blueprint. We're hoping to get it out as early as next month.